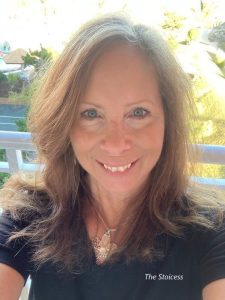 HI EVERYONE. I'M THE STOICESS, LORI STITH, CEO OF STOIC MATHMAKER, LLC.
I've spent my life mentoring individuals for self-improvement. Over the last decade, my time has been spent with the most highly educated individuals giving them advice on how to manage their minds while dealing with the chaotic world in which we now live.
Like you, everyone faces daily challenges that they feel are insurmountable. However, my training method gives peace of mind when facing such daily issues. God is at the center of your success.
When you're ready to learn to think like me, I'll be here.
I am a Christian Life Coach. I Look Forward to the Opportunity to Help You Grow Mentally.
Four Months With Me and You'll Never Be Your Old Self Again.
I guarantee it!
Here's the thing… Have you ever dreaded waking up tomorrow because of a situation you know you must face? Anxiety, fear, or insecurity present? Or have you been caught off-guard by an immediate situation and your heart sinks? I know, a Mean-One set you up for failure. And for each of these events, did you forget about God and miss a daily prayer to our Lord when you needed Him most? I know your feeling. I've spent many mornings hidden under the covers, dreading the day, and want to be "left alone". But I peek out the covers and see my notepad on the nightstand and remember I wrote down a situation the night before that I told myself I must address this morning. So, I sit up in bed, reach for the notepad and see the (S) Situation with (T) (O) (I) (C) underneath. I grab my Bible and cellphone and begin the process of looking up "wisdom and understanding" to address the (T) Teachings followed by completing the (O) (I) (C) sections. And you know what? After that 10 minutes, I feel God in me again. My strength is renewed. I say my morning prayer to Him and give thanks for my renewed empowerment. I then look at the website and see how others have responded to this (S) Situation and smile knowing my people and I are connected to Him. My spirit is now fully charged and I hop out of bed, ready to face those Mean Ones today. For My God and My People are with me every step of the way! So know that there is Hope. Contentment is just around the corner. Your Dignity is no longer at risk. Hiding under the covers all day is no longer needed.  God and My People are waiting to help! Let me show you the way out — Your way up. I will teach you My Secret to becoming an Endearing Leader. You'll improve your Common Sense. Through Faith, YOU WILL Prevail with Tremendous Strength
Stoic Matchmaker is a Christian Meditation and Education Website where difficult real-life situations are used to teach you to overcome daily disruptions head-on by keeping a constant connection to God – at home, work, among friends, and family – Any Situation – you name it!  YOU develop a faith-based mindset to OVERCOME ANXIETY and WORRY. And as You Grow Mentally Stronger, Others will Notice and be Amazed. They will Seek Your Wisdom.
And those who are wise shall shine like the brightness of the sky above; and those who turn many to righteousness, like the stars forever and ever." Daniel 12:3
So What's Stopping You From Accepting My Offer When You Need Additional Help?
Your Comment: How does your Guided Meditation differ? My Response: I have a tool, the S-T-O-I-C Storytelling Meditation method, for use during your meditation. However, a tool alone is insufficient. One must know how to master the tool to achieve the desired result. As you train,  you'll learn my Unique Secrets on how to Master my S-T-O-I-C tool that will make your meditation sessions come alive for meaning in your life.  My method lets you spend time with God as you think through your problem with His help. I find I'm having a conversation with God and working with Him to answer my problem.
"You shall eat the fruit of the labor of your hands; you shall be blessed, and it shall be well with you." Psalm 128:2
"Work hard and do not be lazy. Serve the Lord with a heart full of devotion." Romans 12:11
It's Time To Build Your MENTAL FOUNDATION on the ROCK OF GOD! Be that Confident Hero – Tame the Mean-Ones Be that STAR – Amaze Others with Your Wisdom and Leadership Walk With Your Head Held High – With Confidence in Your Step Peace of mind is Priceless – Gain control over your life.  I'm here to help you mentally transform into that Empowered You ! Train With Me. START NOW!